When I was at the Ontario College of Art in 1996, my drawing instructor asked us to keep a drawing journal. That very night, I happened to see the celebrated documentary about comics artist Robert Crumb. I had also just received a new sketchbook from my brother John. The rest is history... about six sketchbooks and eight years of what became known as "the drawing book". Everywhere I went, the books got passed around as people read the unfolding story.
Here is the exciting news - the first volume of the drawing book is now in print!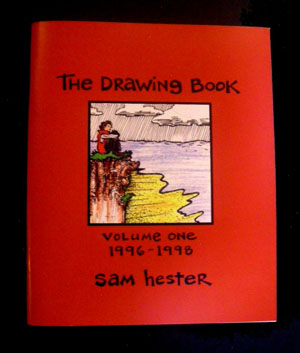 A few names were changed to protect the innocent, but otherwise, here's the illustrated journal that started it all. My comics diary describes my life as an art student in Toronto, and then goes on to describe my displacement from the world as I had known it, after I was hired as an international flight attendant, and then started following Bob Dylan as he toured around the world... all the while navigating the turbulent waters of love and friendship. The funny thing about this book is, I didn't really think too many people would read it, so there is a spontaneity about the style which, now that I usually work on more "formal" comics projects, I don't think I could ever reproduce. There are about six more volumes in this series. Maybe I'll get around to publishing them sometime, too. But for now - here are some (very random) sample pages from the series, just to give you an idea.
In case you'd like to BUY this fabulous 80-odd page volume (black and white, alas, not the full colour of the original - but it still looks great!) - you can take a look here.