Can you buy stuff from me? Yes. But, so far, I'm still setting up this online store. In the meantime, if there is something you're interested in, please email me directly. We'll figure it out!
Well, here is one thing that I have for sale. Long-awaited! First time in print!
The Drawing Book: Volume 1.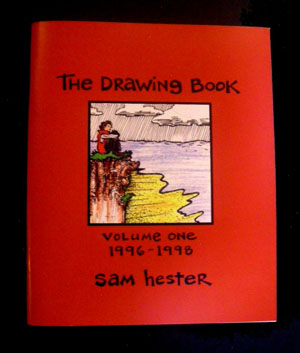 $20.00 CDN + shipping
80 pages, black & white (alas, not the full colour of the original, but - still looks great!)
A few names were changed to protect the innocent, but otherwise, here's the illustrated journal that started it all. My comics diary describes my life as an art student in Toronto, and then goes on to describe my displacement from the world as I had known it, after I was hired as an international flight attendant, and then started following Bob Dylan as he toured around the world... all the while navigating the turbulent waters of love and friendship. The funny thing about this book is, I didn't really think too many people would read it, so there is a spontaneity about the style which, now that I usually work on more "formal" comics projects, I don't think I could ever reproduce. There are about six more volumes in this series. Maybe I'll get around to publishing them sometime, too.
There is lots more stuff, and maybe one day I'll get around to putting it up here.
Stay tuned!